About Us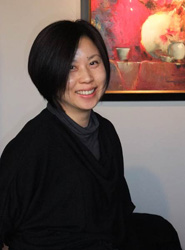 Click on image for larger size
Hong Zhu was born in Shanghai, China. She started her training in visual art at an early age when she was selected to study at an educational center for gifted children. Later, she became the youngest artist at prestigious Shanghai Arts & Crafts Research Institute where she perfected her skills for painting and traditional Liu-Ching bamboo carving. Her artworks had been chosen to participate in regional, national as well as international exhibitions and many of them were rewarded prizes for excellence.
In 1991, Hong came to Canada to further her pursuit of Western art and studied under Prof. Ray Robinson and Bill Arnold. The same year, she had her first North-American show at One Hundred Antiques (Ontario) where her artworks were highly appreciated by exclusive gallery clients. The following year, she had her second solo show at Kenneth Gallery (Ontario). It had drawn great enthusiasm and interest in her artworks from both public and local media. She had participated in annual arts council exhibitions as well as numerous group shows. Many of her works received special awards. Her latest work of glass paintings were a huge success at a 4-person exhibition at Charisma Gallery in Abbotsford, BC Canada.
Over the years, her artworks have become objects of considerable interest on the part of collectors all over the world.