Open House Friday December 9: 5pm - 8pm
Dear friends and art lovers, This year we are departing from an art show format to an open house event featuring work by two exciting eastern Canadian painters Steven Lamb and Katerina Mertikas and new work by our gallery artists. Steven and Katerina's paintings create worlds that are full of charm, humor, and insight. The open house is on Friday December 9th from 5pm to 8pm. Refreshments will be served and there will be a free draw to enter. Drop in any time to see the exciting new work and chat with Hong.
Some of the work by our new artists:
Solitude. Steven Lamb paints city scenes from La Belle Province that are full of romance and whimsy. More of Steven's work.

Snow Has Fallen. Ottawa-based Katerina Mertikas describes her delightful, vivid paintings of children as naïve expressionism. They are painted spontaneously from remembered scenes from her daughter's and now her granddaughter's lives. More of Katerina's work.

More details about the show.
New work by Min Ma
Stepping Stones, Dockside and Autumn Scenery
Gallery artist Min Ma has just dropped off some spectacular new paintings, large and small.

More of Min Ma's paintings
Introducing new artist Katerina Mertikas
True Friends and Our Usual Walk
Katerina Mertikas emigrated from Greece to Canada in 1960 and now lives in Ottawa. She is self-taught and delights in capturing the carefree and joyful moments of childhood in what she describes as 'naïve expressionism'. More of Katerina's paintings
New oil paintings by Pieter Molenaar
Splendor in the Sand
Slough View
East Coast Magic
New Carol Evans Print
Sun Warmed Shore
New Max Jacquiard Print
Cathedral Siding
On this September morning the Track Watchman's small facility is shaken by the locomotives thundering past as they make their way up the grade towards the Spiral Tunnels. Cathedral Siding is about four miles east of Field. More of Max's art
Woodturned bowls by John Spitters
Acacia Burl Bowl and Maple Bowl
We are honored to be carrying some of local woodturner John Spitters's creations. John will log, season and turn local varieties of wood; in addition he crafts more exotic varieties such as the acacia tree. More of John's woodwork
Trainmaster: The Railway Art of Max Jacquiard
Back by popular demand. We just received another shipment of Trainmaster books just in time for Christmas. The featured art was drawn from the collection of Max Jacquaird and the text was written by well-known BC railway historian Barrie Sanford. Signed by Barrie Sanford and only $39.95.
More about Trainmaster railway art book.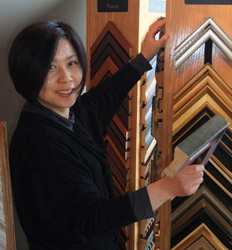 Click on image for larger size
Abbotsford Art Gallery staff are committed to providing quality craftmanship and meticulous care for any treasured items you bring in for custom picture framing. Also, we offer a great selection of picture frames in all price ranges. Whether print or painting or needlework or hockey jersey – we can frame them all! Owner Hong Zhu can also perform art restoration for most works of art. Customers can select frames from Larson-Juhl and Roma, moulding manufacturers of some of the best wood mouldings in the world. In addition, for projects on a budget we have an extensive collection of high-quality plastic frames. We also have a computerized mat cutter to handle large projects.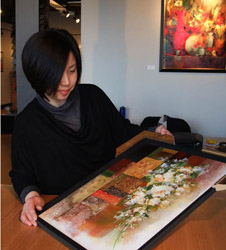 Click on image for larger size
In addition to her many years of experience as an art designer and picture-framer, Abbotsford Art Gallery owner, Hong Zhu, is also a well-regarded artist having spent years mastering techniques of both East and West.
For those of you searching for original art, we are carrying original floral and abstract paintings of Hong's, plus original work of Myrtle-Anne Rempel, SFCA, CSPWC, impressionist Ron Hedrick, plus the wildlife paintings of Bob & Lloyd Barnes. We are also carrying some very exciting and reasonably-priced original abstracts and florals perfect for home or office. For collectors, we will be carrying collectible limited edition prints of well-known B.C. artists such as Carol Evans, Brian Croft and Max Jacquiard.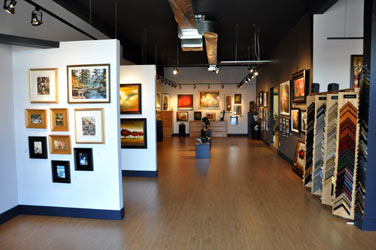 Click on image for larger size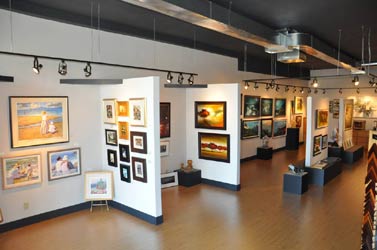 Click on image for larger size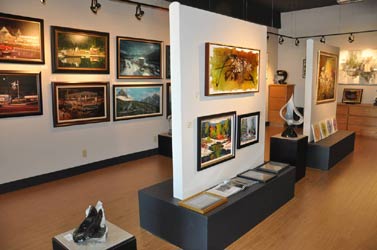 Click on image for larger size
The interior of Abbotsford Art Gallery
In addition, Abbotsford Art Gallery will be carrying a wide assortment of art, both collectible or decorative. Some artists we will feature will be Hong Zhu, Brian Croft, Carol Evans, and Max Jacquiard.